Children's Therapy
Helping Kids Develop Their Voice
Understanding the Need For a Therapist
Unlike adults, who have had years of experience learning how to voice their frustrations and dealing with conflict, kids often don't know how to express what they are thinking and feeling. Whether they are dealing with a school bully, low self-esteem, or more serious issues like ADD/ADHD or eating disorders, if they are reacting in ways you are unsure how to manage, the therapists at Life Skills Awareness have the expertise you need to help.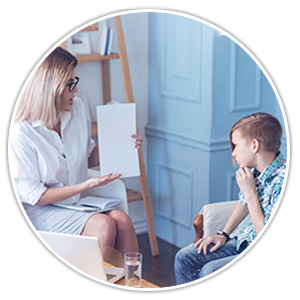 Reasons Your Child Could Benefit From Working With a Therapist
THEY ARE FREQUENTLY SAD OR DEPRESSED
THEY ARE WITHDRAWN OR ISOLATED
THERE ARE SUDDEN AND EXCESSIVE BURSTS OF ANGER OR MOOD SWINGS
THERE IS A DECREASED INTEREST IN ACTIVITIES
THERE IS ALCOHOL OR DRUG ABUSE
THEY HAVE BEEN SEXUALLY, PHYSICALLY, OR EMOTIONALLY ABUSED
THERE HAVE BEEN FAMILY CONFLICTS, SUCH AS DIVORCE OR SEPARATION
THEY EXPERIENCED A DEATH OF A FAMILY MEMBER OR PET
One of the wonders of parenting is being able to learn who your child is, their personality, interests, sense of humor, and dislikes. On the other hand, one of the biggest challenges is learning how your child reacts in certain situations, when things don't go the way they expected, or how to talk to them when they have become withdrawn. Working with a therapist can provide an outlet for children who need a trusted ally who they can talk to and work through various challenges with.
Our approach involves creating a nurturing and comfortable environment where children of all ages can open up and talk about what they are struggling with. Life Skills Awareness uses a variety of techniques, including play therapy to help therapists gain insight into a child's mind, especially when they are having difficulty opening up. Play therapy uses tools like the arts, music, crafts, dancing, and toys to create an outlet for expression.
For young teens, the transition into adulthood comes up with a variety of struggles, such as body issues, identify confusion, defiance, school issues, or anxiety. We aim to help them develop coping strategies and understand the difference between what their perception of a certain situation can be and reality. These methods will teach them how to adapt their thinking in order to prevent feeling bad about themselves.
If you believe your child could benefit from working with a children's therapist, get in touch with Life Skills Awareness today.