Marriage Counseling
Support & Guidance From Compassionate Therapists
Find Solutions With Help From Dedicated Counselors
Whether you have been married for two, twenty, or sixty years, relationships take continuous maintenance. No matter what obstacle you are trying to overcome, or if you are happily married and simply want to learn how to better communicate with your partner, the knowledgeable and experienced counselors at Life Skills Awareness want to work with you to find a resolution or to build upon existing strengths in your relationship.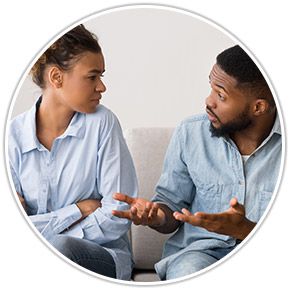 Life Skills Awareness Can Provide Insight Into a Range of Issues & Situations
Pre-Marriage Counseling
Problems With Communication
Intimacy Issues
Recovery From an Affair
Recovery From a Divorce
Second Marriages
Arguments Over Parenting
Financial Problems
We understand that each relationship and each partnership is unique and everyone comes to us with their own individual concerns and situations. We can assure you that your marriage counselor will treat your situation with compassion and understanding, and will never use a one-size-fits-all approach.
Our primary goal when working with a married couple is to try to find the root cause of the strain. Whether it's feelings of being detached, constantly arguing, or a lack of intimacy, together we will identify each person's concerns and needs. When we have a complete grasp of the situation, we can develop a path and strategy that will provide opportunities for renewed connection, compassion, and understanding.
Marriage counseling is a process of unearthing issues and working together to find a resolution for each person and the relationship as a whole. Facing conflict head-on can be emotionally challenging, but you can be confident that Life Skills Awareness will be with you throughout the journey. When you approach therapy with an open mind and a positive outlook, we're confident that your relationship will be stronger than ever.
Get in touch and we'll provide the necessary tools and resources for you and your partner to rebuild a strong foundation.