Online Mental Health Services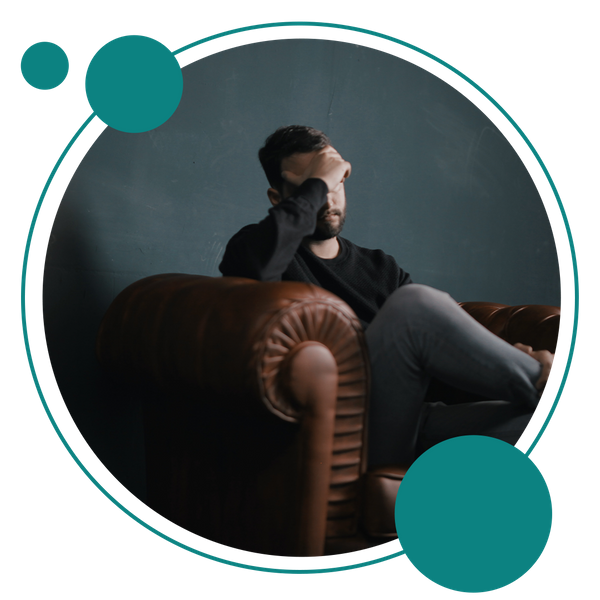 Over the last decade, sizable and important shifts in two aspects of mental health have come to the forefront of discussion: the stigma against counseling and the rise of online counseling services.
Both are critical factors in our modern day, whose progression have been instrumental in pushing the overall progression of mental health services all over. The stigma against acknowledging poor mental health and seeking counseling has slowly dissipated, which has led to an increased variety of accessible services, like online counseling. These kinds of offerings are incredible examples of the accessible and affordable mental health services that are becoming more and more mainstream, and for good reason.
Why Is Counseling Important?
In life's journey, we encounter a myriad of internal and external challenges that can impact our emotional well-being and overall quality of life. It is during these times that counseling emerges as a crucial beacon of hope and support. Whether teletherapy counseling or in-person services, counseling serves as a guiding light, providing a safe and confidential space to explore our thoughts, emotions, and experiences.
Counseling offers invaluable insights and tools to promote healing and growth and plays a transformative role in nurturing the mind, heart, and soul. Here is the profound impact counseling can have on you:
Emotional Support: Counseling provides a safe, supportive, and non-judgmental environment for individuals to express their thoughts, feelings, and concerns with a trained professional.

Mental Health Management: Counseling can help individuals develop coping mechanisms, improve self-esteem, and enhance overall well-being.

Personal Growth and Development: Our therapists provide guidance and tools to promote personal development and help clients achieve their goals.

Improved Relationships: Therapy can enhance interpersonal relationships by addressing communication issues, conflict resolution skills, and understanding relationship dynamics.

Stress Reduction: Counseling helps clients address the root causes of their stress and empowers them to manage it more effectively, leading to improved overall well-being

Mental Health Disorders: Therapy plays a crucial role in treatment and symptom management for individuals with diagnosed mental health disorders.

Crisis Intervention: Our skilled therapists can help individuals navigate times of crisis, such as traumatic events, grief, or sudden life changes, process emotions, and work towards healing and resilience.

Self-Exploration and Self-Awareness: Counseling helps individuals understand their beliefs, values, and motivations, creating a clearer sense of identity and purpose.

Validation and Empowerment: Individuals receive validation and support for their experiences and emotions through counseling. This validation can empower individuals to make positive changes, increase self-confidence, and develop a positive outlook on life.

Holistic Well-being: Therapy takes a holistic approach to well-being by addressing mental, emotional, and behavioral aspects of an individual's life. By considering all areas of their life, our counselors can support clients in achieving balance and flourishing in various domains.
The Benefits of Online Mental Health Services
Teletherapy is a great option for people who are seeking therapy but don't have easy access to in-person counseling. Life Skills Awareness offers teletherapy sessions that are just as valid and satisfying as in-person sessions! Here are some of the reasons why teletherapy may be the right option for you.

Privacy
You can be completely certain about the security and privacy of your counseling sessions and therapies since there is no physical office or waiting room. Your information is only between you and your counselor. Furthermore, teletherapy sessions ensure the highest level of discretion. Just like in-person therapy, teletherapy allows you to discuss personal information with a counselor without worrying about being overheard or judged by others, which can be an important part of the process for many people.

Convenient Scheduling
Online therapy sessions allow for easy scheduling, with a time that fits both your schedule and your counselor's schedule. You can schedule your teletherapy sessions from anywhere, allowing you to fit counseling into your lifestyle. Life Skills Awareness offers online therapy through a HIPAA-compliant video service, providing the highest level of security and convenience for clients.

Affordability
With the ease and virtual nature of teletherapy, sessions are generally more affordable than a traditional in-office session. Your finances shouldn't be a barrier to getting the mental health services you need, and online options can be a money-saving alternative to in-person therapy.

Accessibility
Teletherapy only requires a smart device or computer and an internet connection, allowing for access to quality therapy and mental health services to practically anyone who requires them. You don't have to travel or spend time getting to a physical location for therapy, and there's no waiting room or pre-session appointments that you may need. Being able to access quality therapy remotely also means that you can significantly cut down on your travel requirements, which can be very convenient if you don't currently have access to a vehicle. On the other hand, if you have to travel for work, school, or other reasons, teletherapy can be a way to maintain your therapy schedule even while you are traveling. It's a win-win!

Social Distancing Made Easy
With the ongoing health concerns surrounding the COVID-19 pandemic, teletherapy options allow Life Skills Awareness to continue practicing social distancing guidelines without sacrificing your access to mental health services. Whether you're avoiding COVID-19 exposure for yourself or for the safety of your loved ones, teletherapy is a great option for doing your part in keeping the pandemic at bay.
Teletherapy offers a safe, convenient, private, and affordable way to get the mental health assistance you need. If you are in need of online counseling services or teletherapy sessions, Life Skills Awareness is here for you. Contact us at any time by filling out our contact form!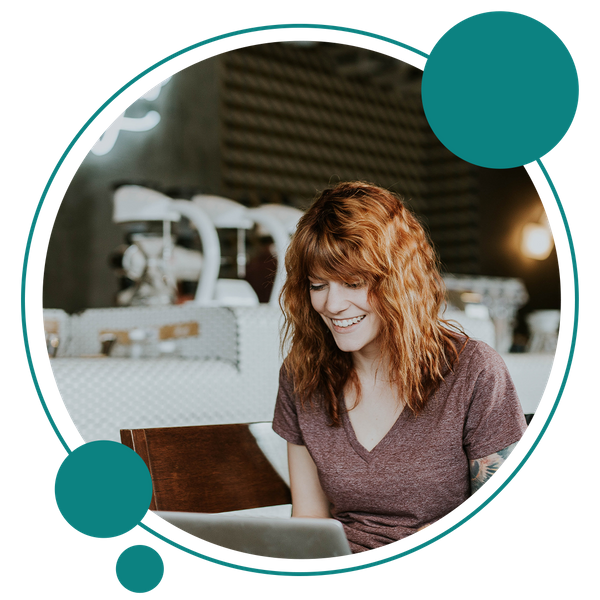 Teletherapy
At Life Skills Awareness, we are happy to provide online mental health counseling, also known as "teletherapy" to our clients. While teletherapy doesn't utilize in-person sessions, it can provide the same mental and emotional care that in-person therapy can, in a much more accessible fashion. Teletherapy can involve exchanging messages, phone calls, and video calls with a licensed therapist over your phone, essentially conducting virtual therapy sessions. This is an extremely helpful tool because it provides you with the support and care of a mental health specialist, wherever you are and whenever you can fit it into your schedule, rather than finding a recurring time that you have to set aside every week. Folks who are extremely busy, or live in far away areas, or don't have access to the proper means of transportation still deserve mental health support and counseling all the same, and online therapy can provide that to them. Ironically, for the aggressive impact that the internet has undoubtedly had on our collective mental health, it can also be a catalyst for increasing mental health awareness, and providing quality mental health services to folks who might not be able to as easily access them.
Unlock Your Path to Personal Growth With Our Teletherapy Counseling Services
At Life Skills Awareness, we understand that mental health matters, and we are dedicated to providing the support you need through teletherapy counseling. Embracing modern technology, we offer secure and confidential online counseling services to ensure you can access support from the comfort of your own space. Our dedicated team of licensed therapists is committed to providing compassionate and personalized care tailored to your unique needs.
Whether you're seeking to manage stress, improve relationships, or address emotional challenges, our teletherapy services offer a flexible and effective solution. Take a step towards better mental health and choose us as your trusted teletherapy counseling partner. Experience these benefits of remote counseling with Life Skills Awareness and embark on a journey of growth and healing with us by your side. Contact us today to schedule an appointment for our online counseling services!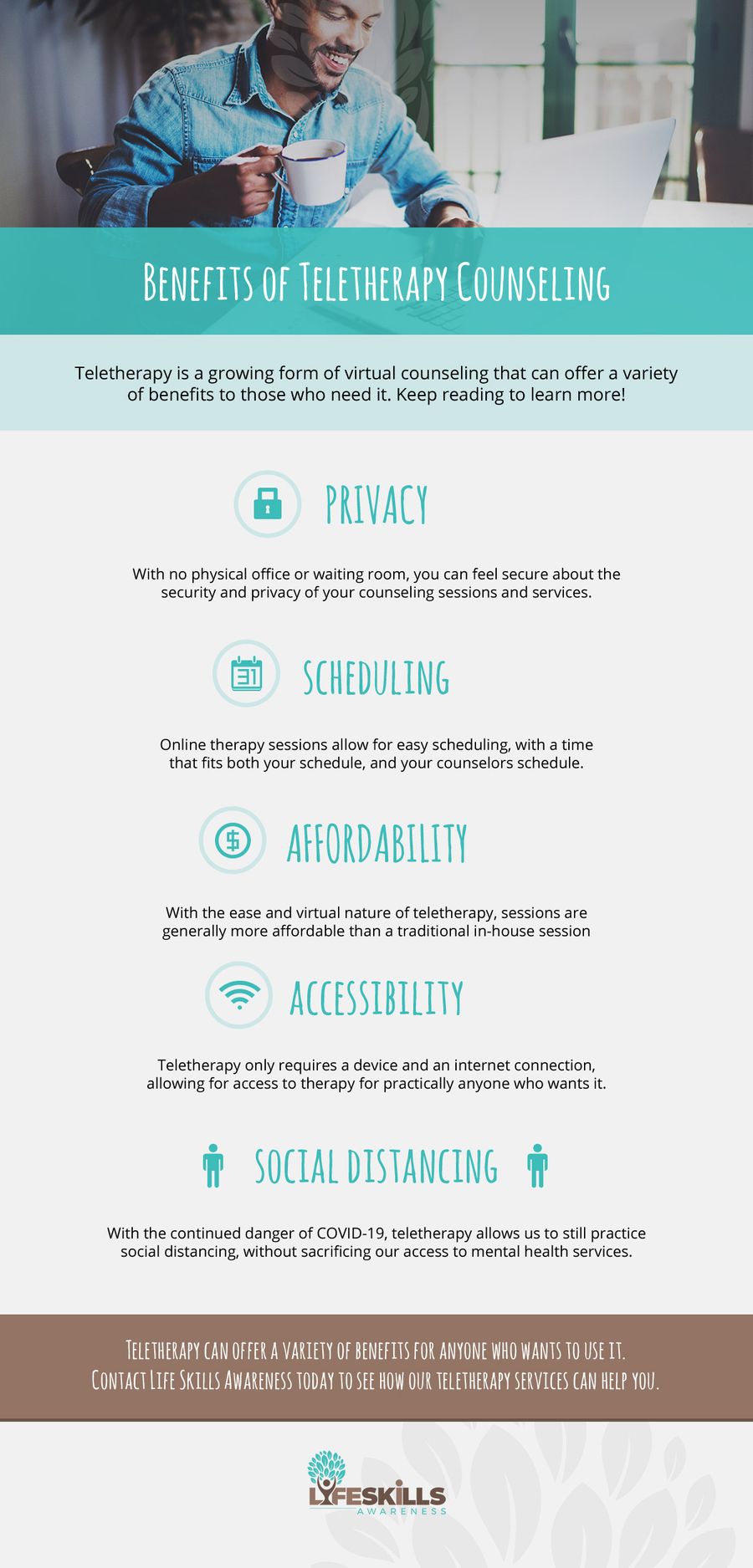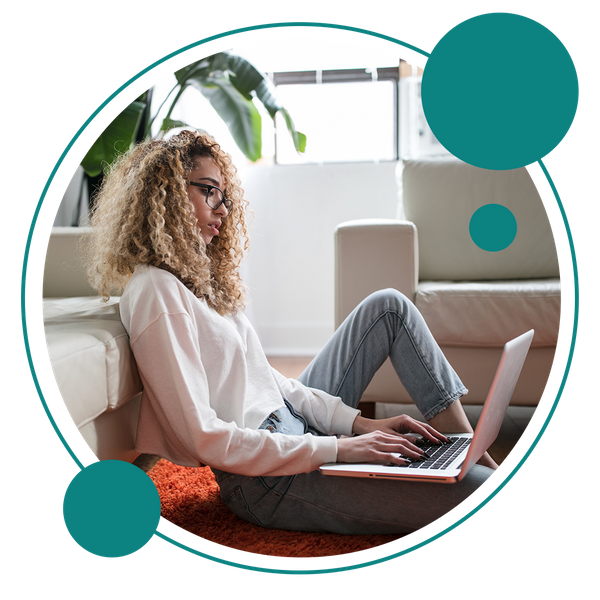 Online Services with Life Skills Awareness
That is one of the many reasons that Life Skills Awareness prides itself on offering the most effective and accessible forms of counseling and therapy possible, which is just one of the reasons that we are happy to provide online counselling services for our clients. Schedule an online session that works best for you, and receive a comprehensive report after every session that details what happened, and your progress. We operate in Hesperia and the surrounding southern California area, but our online services allows us to provide our high-quality personalized counseling services directly to you, wherever you may be. Contact us today, and find out which of our online therapeutic specialists will work best with you. Call now!