Military Personnel and Family Therapy
Counseling Services to Strengthen Family Bonds
The Benefits of Counseling for Military Members & Their Loved Ones
Our highly-qualified counselors have experience working with military personnel, offering confidential, face-to-face sessions for both active and inactive members. Service members and their families should have access to nurturing environments where they are able to address and improve personal and home issues. At Life Skills Awareness, we focus on building a resourceful and trustworthy relationship with you by specifically addressing your needs and concerns and finding a therapist that best fits you.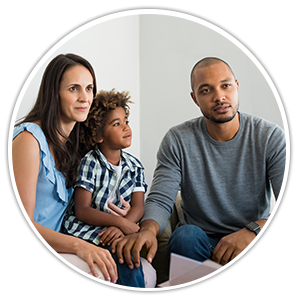 Relevant Issues that Could be Addressed in Face-to-Face Sessions:
POST-TRAUMATIC STRESS DISORDER
STRAINED FAMILY AND INTERPERSONAL RELATIONSHIPS
FEELINGS OF ISOLATION, ESTRANGEMENT, OR DISCONNECTEDNESS
SYMPTOMS OF DETERIORATING MENTAL HEALTH
SUBSTANCE ABUSE AS A COPING MECHANISM
Military and Family Counseling
There are a number of unique challenges that service members face, regardless of their activation status. Military personnel have undergone many transitions in their life that are emotionally, mentally, and physically taxing. Some, if not most, of the issues that service members encounter can be difficult to talk through with friends, family members, and even themselves, putting strain on their personal relationships and leading to feelings of isolation and detachment.
Serving in the military can be a difficult journey for all of those involved. Whether it be an active or inactive member or their families, counseling support and resources are offered to ensure that concerns are heard and individual needs are met. We work with active-duty service members and their immediate family to offer tools and resources to help manage these issues and give problem-solving solutions for life-long benefits.
If you or your family are being challenged by specific issues stemming from serving in the military, don't hesitate to call Life Skills Awareness to set up an appointment. To ensure that every service member who seeks support is taken care of, we are a provider of Tri-Care & TriWest insurance.